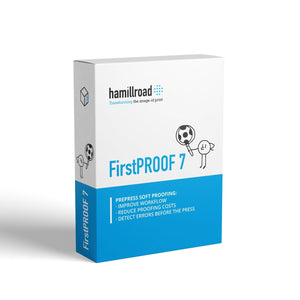 FirstPROOF Standard - 3-year license
FirstPROOF Standard is an entry-level but powerful prepress soft-proofing workflow product that allows for easy tracking, viewing and checking of ripped jobs prior to output. When added to an existing Harlequin, Esko-Graphics, Presstek DI or any TIFF-based RIP it provides a significant improvement in proofing jobs before output.
The high-performance viewing capabilities allow users to efficiently navigate around a job, zooming in and out to check the layout and content. In doing so, users of FirstPROOF Standard can check for basic prepress issues before exposing film, burning plates or worse still printing pages, thus saving valuable time and money.
Amongst the many features is the ability to search for a given job (by name), see a thumbnail of the pages in a job, see the overall ink coverage of each separation (with either '0%' or '>0%' indicating a blank separation or one with just crop marks and color bars), view either a composite of the pages in a job or each separation in a page, delete jobs or separations that are blank or contain errors and output jobs that contain no errors.


Highlights
Search multiple RIPs to find a given job
View jobs from remote RIPs without stopping output / before output
Unique Trap Black tool that allows the user to easily check black traps
High-performance remote (LAN) image viewing – pan, zoom, rotate and flip
Job control – approve, reject, delete and output jobs
Positional tools – coordinates, adjustable rulers, gridlines and guidelines
Colour tools – background paper colour and opaque inks
Modern UI – job hierarchy, job information, page thumbnails, navigation window and tooltips
Please note: The pricing shown is for a 3 years licence of the software which is renewable annually. Please refer to our Terms and Conditions for more details.
*There is a supplement of 50% per year per licence for each of the Option packs, such as the Advanced View Tools option. See the Documentation for further details on the various Options. There are five options packs:

• The Advanced View Tools Option
• The Page Modification Option
• The Printing and Export Option
• The Clean [Scum Dot Removal] Option
• The Color Management Option
Contact Finance for costing options: finance@hamillroad.com