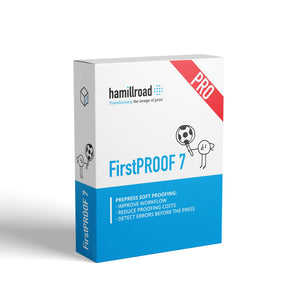 FirstPROOF Pro - 3-year licence
FirstPROOF Professional is a powerful color-accurate prepress soft-proofing workflow product built on top of FirstPROOF Standard that includes a larger tool set and significant additional features. When added to a Harlequin, Esko-Graphics, Presstek DI or TIFF RIP it provides a number of extremely sophisticated capabilities.
The color management solution in FirstPROOF Pro is a completely new innovative method for generating color-accurate soft proofs, which is inexpensive, easy to use and fast; thus removing the need for hard-copy proofs.
The larger tool set provides specialist prepress tools for further checking of jobs, which greatly reduces errors. In doing so, users of FirstPROOF Pro can detect many more prepress problems before exposing film, burning plates or worse still printing pages, thus saving valuable time and money.
Among the additional features is the ability to rotate separations (for example when an extra 90-degree rotation has occurred), merge separations (such as P Blue CV & P Blue CVC) and the ability to also print.
Highlights
High-performance remote (LAN) image viewing – pan, zoom, rotate and flip
Job control – approve, reject, delete and output jobs
Positional tools – coordinates, adjustable rulers, gridlines and guidelines
Color tools – background paper color and opaque inks
Modern UI – job hierarchy, job information, page thumbnails, navigation window and tooltips
Measurement tools – distances, areas, screens (frequency and angle), color, density and barcode support
Advanced tools – view black, ink limits, dot gain, tone curves, cylinder seam and duplex view
Color-accurate viewing including a gamut check tool
Page modification – crop, rotate, merge, knockout and clean
Printing – separations, progressives or composites to any printer
Please note: The pricing shown is for a 3-year licence of the software which is renewable annually. Please refer to our Terms and Conditions for more details.